Service
Metaverse Development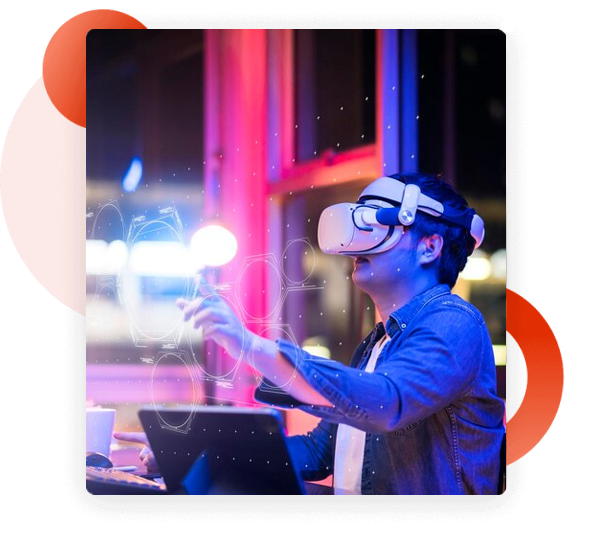 Metaverse Development Company
Step Into Virtual Space With World-class Metaverse Solutions
Get ready to launch an unprecedented and futuristic Metaverse platform powered by state-of-the-art technologies such as blockchain, AR/VR, 3D modeling, and AI. Our metaverse development services will provide you the scope to capitalize on the metaverse opportunity and embark on your journey to the virtual world. We design next-gen metaverse solutions and develop metaverse components such as NFT marketplaces, decentralized platforms, metaverse-based applications, and 3D virtual spaces.
Metaverse Development Services
Our Full-scope Metaverse Development Services
Metaverse Development Consulting
Our Metaverse consultants help plan the perfect roadmap to turn your imagination into a virtual reality. The process of the consultation session is a step-by-step approach starting from ideation to risk analysis, design of metaverse components to devising a growth strategy for user acquisition and monetization. We consider and carefully evaluate every stage to deliver top-notch quality results for our clients.
Metaverse Applications Development
Get feature-packed and dynamic web-based apps to revolutionize business operations and communication. Our metaverse applications are built by top blockchain development experts of our agency who have firsthand experience in delivering best-in-class apps for diverse industries such as gaming, education, finance, etc. If you want to give your users a positive and interactive user experience, connect with our team.
Metaverse NFT Marketplace Development
The soaring popularity of Metaverse NFT marketplaces and people's growing interest in NFT trading have motivated businesses across the world to build their own marketplaces. To take their business to the next level and gain a distinctive edge in the industry, we build a virtual trading world where users' avatars, in-game assets, and digital land are integral components and facilitate easy buying, selling, and trading of digital assets.
Metaverse Gaming Space Development
We help you join the wave of Metaverse gaming by leveraging the expertise of our certified Metaverse developers. Build an unrivaled 3D gaming platform by making the most of leading-edge technologies. Our Metaverse gaming space development is not only a visual treat but also gives the users a whole new level of gaming experience in the impressive virtual environment with the help of 3D modeling, interoperability, and visualization.
Metaverse Integration Services
We offer Metaverse integration services to enhance the user experience of your Metaverse platform. Our professional will assist in the customization of your platform and the upgradation of features and functionalities of your existing Metaverse project. Our integration services include consultancy, API integration, data integration, and ecosystem tool integration to elevate your metaverse ecosystem and deliver a rich user experience.

Metaverse 3D Space Development
Our tight-knit team of extremely talented 3D designers and Metaverse developers can help in building scalable 3D space designs for myriad Metaverse projects such as virtual meeting rooms, cafeterias, parks, etc. These 3D environment models make user interaction immersive and provide them with experiences that are closer to reality. Hire our Metaverse software company to build new concept three-dimensional spaces.

Process we follow
Metaverse Platform Development
Process We follow
Smart Contract Programming
Frequently Asked Questions
FAQs